Taiwan unveils 'magical weapon' against Beijing
Taiwan revealed its first-ever domestically produced submarine, dubbed a "magical weapon in asymmetric warfare" by its producer Read Full Article at RT.com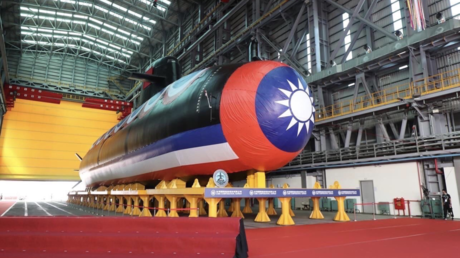 Taipei says its new submarine is meant to ward off a potential attack by Chinese forces
Taiwan has revealed its first-ever domestically produced submarine, with leader Tsai Ing-wen hoping the move would make the island more "self-reliant." The developer of the $1.5-billion sub previously dubbed it a "magical weapon in asymmetric warfare" with Beijing
Tsai oversaw the launch ceremony on Thursday, showing off the first of eight new submarines set to enter service by 2025. They will join just two other subs in Taipei's arsenal, both obtained from the Netherlands some four decades ago.
"In the past, a domestically developed submarine was considered an impossible task. But, today, a submarine designed and manufactured by our country's people sits before our eyes," she said, adding that "Taiwan must take this step and allow the self-reliant national defense policy to grow and flourish on our land."
The announcement comes amid repeated warnings from Taiwanese officials about Chinese military activity in the airspace and waters around the island, with Defense Minister Chiu Kuo-cheng recently pointing to a string of "land, sea, air and amphibious" drills by the People's Republic.
A fruit of our self-reliant defense policy and future underwater capacity that guards our waters, Taiwan's first indigenous defense #submarine has been named 'Narwhal' and was christened by President Tsai @iingwen this morning. pic.twitter.com/Qoop7XBGVC

— 國防部 Ministry of National Defense, R.O.C.