New ChatGPT application utilises AI to help doctors streamline documentation and focus on patients
Nuance — a Microsoft-owned AI company in Massachusetts — has created an AI tool for physicians called DAX, which streamlines the documentation process. Here's how it works.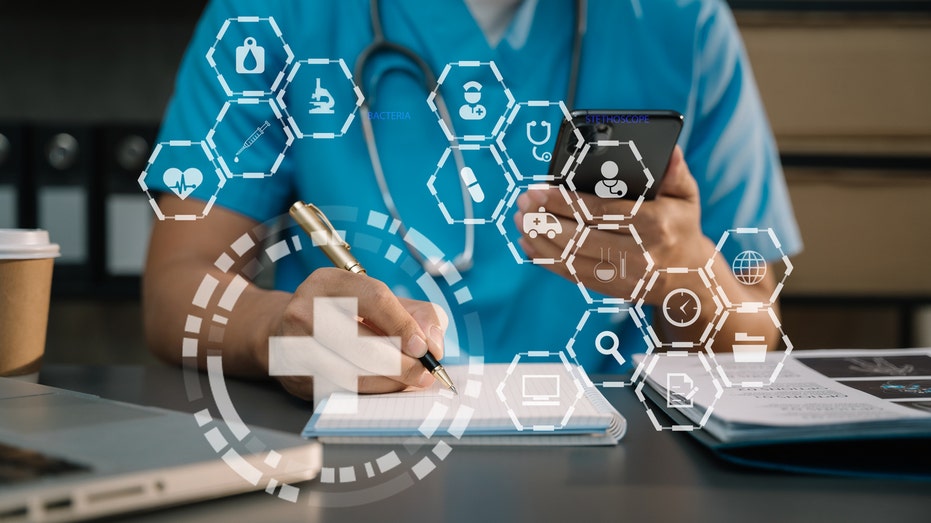 Doctors in the U.S. spend an average of 1.84 hours per day completing electronic notes outside their regular work hours, recent studies have shown — and 57% of them said documentation takes away from the time they can spend with patients.
Aiming to change that, Nuance — a Microsoft-owned artificial intelligence company in Massachusetts — has created an AI tool for physicians called DAX, which streamlines the note-taking process.
At Cooper University Health Care in New Jersey, doctors who are already using the tool have reported improved patient outcomes, greater efficiency and reduced costs.
"For our physicians who use DAX more than half the time, they have seen a 43% reduction of the time they spend writing notes and an overall 21% reduction in the amount of time they spend in the electronic medical record," said Dr. Anthony Mazzarelli, the CEO of Cooper, which employs 150 physicians.
He is also an emergency physician.
Peter Durlach, chief strategy officer of Nuance, compares the tool to a "co-pilot" for physicians.
"DAX lets clinicians fully focus on caring for patients instead of manually filling in data entry screens," he told Fox News Digital.
"This technology helps improve the patient experience and the quality of care, while also making it so that clinicians no longer need to spend hours of their own time completing documentation."
DAX Express is powered by ChatGPT-4, the latest version of AI chatbot technology from OpenAI.
The tool automatically and securely creates clinical notes, with the patient's consent, that are immediately available for the doctor to review after each patient visit.
"The phone sits between the doctor and the patient," Mazzarelli explained during an on-camera interview with Fox News Digital. "It incorporates not just what the doctor says, but also what the patient says. And then it uses AI to write the note."
He added, "It's a huge step up from just dictating notes."
Next, the note is sent to the doctor, who can make any necessary changes before approving it. The doctor can then share the file with the patient for transparency.
"It's like a physician's assistant that thinks really fast," Mazzarelli said. "The physician is still responsible for making sure the note correctly reflects the conversation."
The tool gives doctors evidence-based support for the decisions they make, right in the palm of their hand, he added.
"This is, to me, the next evolution," Mazzarelli said. "It's not that we just want a faster horse and buggy — we want the car."
The more obvious benefits of DAX are removing the administrative burden from physicians and reducing burnout, but the benefits extend to the patient as well, Mazzarelli said.
The doctor is able to directly interact with the patient and look the person in the eye without the distraction of note-taking, he said.
This aligns with Cooper University Health Care's philosophy of practicing "compassion science," which emphasizes a clear understanding of what patients are experiencing.
"If you can really connect with patients, whether you're a nurse or a doctor or anybody in health care, it improves patient outcomes and lowers overall costs," Mazzarelli said.
"That's good for not just patients, but for the whole health care system."
Because the physician has to sign off on each AI-created medical note, Mazzarelli believes Nuance's AI tool presents a low risk.
"It's the same risk as if you had an intern or an administrative assistant write something for you and you put it out in the world and didn't look at it," he said.
"If you're depending on AI and not thinking of it as an assistant and you just let it make all the decisions — then you certainly could have a problem there."
Nuance's Durlach believes that administrative functions — note-taking, coding and billing — should be the first place to implement AI because they require a lot of manual work and the cost of making a mistake does not impact patient health.
"As a Microsoft company, our goal is to develop and deploy AI that will have a beneficial impact and earn trust from society," Durlach told Fox News Digital.
"We are committed to creating responsible AI by design."
In developing its tech, Nuance focuses on a core set of principles: fairness, reliability and safety, privacy and security, inclusiveness, transparency and accountability.
"In an industry where certain types of mistakes can have serious consequences, health care organizations must be particularly mindful of choosing safe and proven AI solutions," Durlach said.
In the past, medical technology has actually increased the number of administrative tasks, Mazzarelli said — but he believes AI has the potential to dramatically streamline the doctor-patient experience.
"I am very optimistic about the application of generative AI to improve medical care," the doctor said.
"I think it's going to help doctors and patients have better relationships. And I think if used correctly, it's going to be among the best advances we've had."
As medicine continues to become more complex, Mazzarelli said, there is a greater need for decision support.
"As personalized medicine becomes more and more the way of the future, we need assistance to make sure we can use it correctly," he added.
"AI is clearly already here, and I'm even more optimistic about the ways it can assist in the future."