NATO state wants to fast-track training of Ukrainian tank crews
Polish instructors believe it is possible to train Ukrainian crews to operate German-made Leopard tanks in just five weeks Read Full Article at RT.com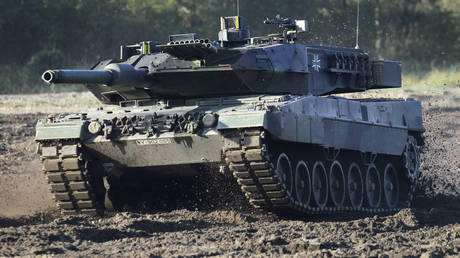 Polish instructors believe five weeks is enough to master German Leopards
While the basic training course to operate German-made Leopard 2 main battle tanks takes around ten weeks, Polish instructors claim it is possible to cut that timeframe by half to get Ukrainian crews ready for battle in just over a month.
After leading the charge on sending Western-made tanks to Kiev, Warsaw is now "likely" to provide the necessary training as the country hosts one of Europe's three Leopard training centers, military experts told Reuters on Tuesday. The facility in the village of Swietoszow in western Poland, near the German border, is equipped with simulators to train 14 crews simultaneously.
"If we intensify training (by maximising the number of) instructors, our time and our weekends, we can train an entire crew in five weeks," the commander of the facility, Major Maciej Banaszynski, told Reuters. In addition to crew training, Polish instructors now offer "courses for mechanics for the arms, chassis and equipment accompanying Leopards," he added.
Read more

Poland expands offer of tanks for Ukraine
Warsaw has yet to officially confirm whether Ukrainian crew would be trained at that facility, but Ukrainian Defense Minister Aleksey Reznikov previously said his troops will undergo training in Poland.
Last week, Germany caved to the pressure from the US, Poland and several other fellow NATO member states, with Chancellor Scholz announcing his decision to ship 14 Leopard 2A6 tanks from Germany's own stock to Kiev, no later than by the end of March.
Warsaw immediately pledged another 14 Leopards, after Berlin said that it would authorize other countries in possession of the German-made hardware to re-export it to Kiev. The UK, Canada, Spain, Norway and the Netherlands have all promised their heavy armor to Kiev.
Read more

US to arm Ukraine with 'longer-range' missiles – Reuters
The US also agreed to supply Kiev with 31 of its M1 Abrams main battle tanks – but cautioned that the delivery could take several months. According to recent reporting by the Washington Post, the US tanks were only offered as "cover" for Germany to send the Leopards, and will not arrive until the end of the year at the earliest.
Russia has maintained that foreign weapons, including heavy tanks, will not change the course of the conflict. "As we said in the past, these tanks will burn just like the rest. They just cost a lot [to make]," Kremlin spokesman Dmitry Peskov said last week, referring to the Abrams specifically.