J&K terror attack: Why a village in Poonch is giving Eid celebrations a miss this year
J&K terror attack: Why a village in Poonch is giving Eid celebrations a miss this year
A village in Jammu and Kashmir's Poonch district has decided not to celebrate Eid-ul-Fitr today (22 April), as per reports. Sangiote village was the destination of a terror attack on an Indian Army truck carrying six soldiers on Thursday. The ambush left five jawans of the Rashtriya Rifles (RR) unit dead, while one was seriously injured.
According to a PTI report, at least 12 people were detained for questioning on Friday in connection with the attack.
Why are residents of Sangiote village giving Eid celebrations a miss this year? How was the Army truck ambushed and who is behind the terror attack? Let's take a closer look.
'Pall of gloom'
According to an Indian Express report, the Army truck was carrying fruits and other items for an iftar gathering slated to be held in Sangiote, which has a population of 4,000 people, on Thursday evening.
Several people from the village were invited for the 7 pm iftar for which the arrangements were being made by the Rashtriya Rifles unit, the report added.
Mukhtiaz Khan, sarpanch of the Sangiote panchayat, who was among the invitees for the iftar, told the newspaper: "Kya iftar jab hamare paanch jawan uss haadse mein shaheed ho gaye (what iftar fast when five of our soldiers were martyred in that unfortunate incident)."
"As soon as we got information about the terror attack from social media groups, a pall of gloom descended on the village," he added.
"The villagers will not celebrate Eid on Saturday; we'll only offer namaz," Khan told Indian Express. The martyred soldiers were part of the RR unit deployed for counterterror operations in the village.
J&K Poonch terror attack
The Army vehicle was ambushed on Jammu-Rajouri-Poonch National Highway from multiple sides at around 3 pm when it crossed Tota Gali.
The Indian Army's Northern Command said in a statement that the terrorists "fired on the moving vehicle taking advantage of heavy rains and low visibility in the area. The vehicle caught fire, due to likely use of grenades by terrorists."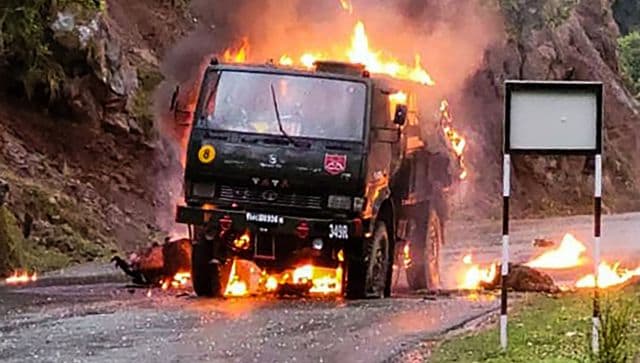 The truck laden with fruits and edibles – travelling between Bhimber Gali and Poonch in Rajouri sector – caught fire in the attack. Indian Express reported that Army officials and residents from nearby Bhatta Durian village found charred body of five soldiers and one critically wounded soldier when they reached the spot.
"Bullets seemingly rained on the vehicle from all the sides, leaving the trapped soldiers with no chance to retaliate, even as the attackers managed to escape apparently without suffering any damage or casualties," sources were quoted as saying by The Wire.
The slain soldiers include Havildar Mandeep Singh (Punjab), Lance Naik Kulwant Singh (Punjab), Sepoys Harkrishan Singh and Sewak Singh (Punjab), and Lance Naik Debashish Baswal from Odisha.
As per Times of India (TOI), this was the deadliest attack on a security convoy in J&K since the 2019 Pulwama terror attack that killed 40 CRPF jawans.
Who are the suspects?
The Peoples Anti-Fascist Force (PAFF), a banned terror group considered to be a proxy of Jaish-e-Mohammed (JeM) based in Pakistan, has claimed responsibility for the attack, reported PTI.
At least seven Lashkar-e-Taiba (LeT) terrorists could also be involved in the ambush, officials aware of the prime facie investigation told Hindustan Times (HT).
It is suspected terrorists used grenades and sticky bombs to set the vehicle on fire.
Sources told Indian Express that the current investigation points to the role of three-four "unidentified terrorists", who are believed to have used Chinese-made 7.62 mm steel core bullets capable of piercing armours.
These bullets with markings '71-China' were recovered by forensic science laboratory and bomb disposal teams that visited the spot on Friday, the report added.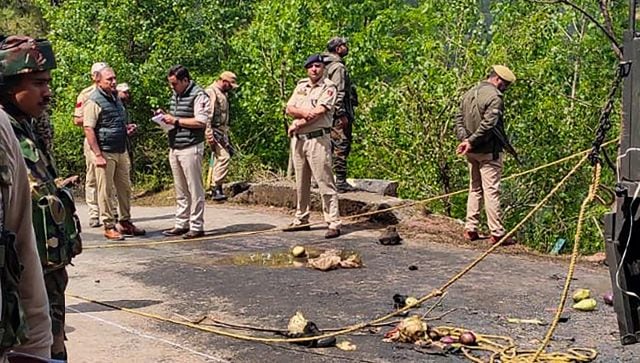 Sources also told the English daily that attackers were likely hiding on both sides of the road – which has dense forests on one side and a deep gorge on the other.
"Those who executed the attack are believed to have been present in Rajouri and Poonch for more than one year and had adequate knowledge of the terrain which is quite tough," PTI reported citing unnamed sources.
As per PTI, drones and sniffer dogs have been deployed to trace the terrorists, while the Army has also conducted a recce of the area with an MI chopper.
As per a News18 report, central intelligence agencies and the intelligence wing of the Border Security Force (BSF) had raised alerts about "movements, hideouts, and suspected stores of terrorists in the Jammu area" in January 2022. Sources said that local security forces were also cautioned about possible attacks on security forces in Poonch.
Notably, the attack has come at a time when Srinagar is scheduled to hold a G20 meeting on 22-23 May. Pakistan's foreign minister Bilawal Bhutto is also slated to visit Goa in May to attend the Shanghai Cooperation Organisation foreign ministers' meeting, in a first high-level visit by a Pakistani leader to India in years.
With inputs from agencies