British state TV under control of royals – Guardian
The BBC agreed to Buckingham Palace's demand to not show certain footage during its coronation coverage, The Guardian reports Read Full Article at RT.com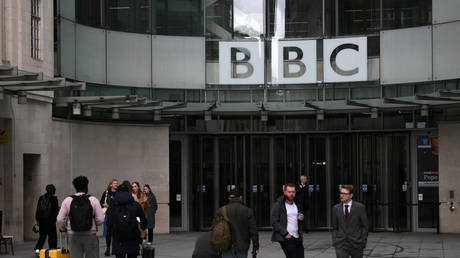 Buckingham Palace reportedly told the BBC it should not use certain video materials during the coronation broadcast
The BBC has caved in to Buckingham Palace's demands to not use certain footage while covering the coronation of King Charles III on Saturday, The Guardian reported on Friday, citing sources.
According to people familiar with the matter who were interviewed by the outlet, in the run-up to the coronation, the broadcaster sent materials to the palace for approval, only to be told that it could not show certain pieces.
"The balance of the power is a little bit more with the royal household than the BBC at the moment," one Guardian source at the BBC said, adding that the royal residence and the broadcaster are still in talks over the coverage terms despite the ceremony being just hours away from the start.
The BBC enjoys a monopoly over the images of the coronation service inside Westminster Abbey, which has sparked concerns among other news outlets that they will have to rely on editorial choices made by the public broadcaster, The Guardian said.
Another point of contention between the BBC and other media organizations hinges on the broadcaster's demand to pay hefty sums to access the footage, while foreign outlets are getting the live feed at no charge.
The demand has left a group of British news organizations fuming, with industry body News Media Association – which includes The Sun, The Guardian, Daily Mail, and Daily Mirror – as well as several other publishers issuing a statement on Friday criticizing the BBC.
The group said the government-supported broadcaster is "denying UK citizens the opportunity to enjoy this event of major public interest and national importance on the platform of their choice."
It added that "the decision to charge UK media companies an excessive commercial fee… seems perverse" when the BBC is allowing foreign media the same footage for free.
This is apparently not the first time the royal family has attempted to influence news coverage. In April, The Times reported that the British monarch did not allow his anointment by the archbishop of Canterbury to be filmed.
On Saturday, the UK will witness its first coronation in 70 years. The carefully choreographed proceedings, which will be attended by dignitaries from across the world, will feature an oath administered by the archbishop of Canterbury.