Architect of Biden's China policy to resign 
US Deputy Secretary of State Wendy Sherman – a major figure in devising Washington's current China strategy – is set to retire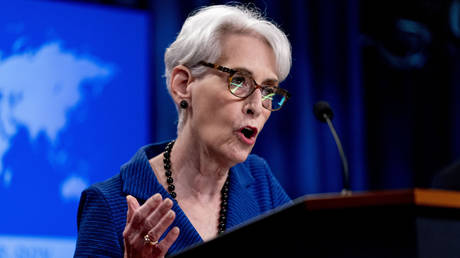 Washington's number-two diplomat, a key foreign policy player, will soon end her three-decade career in government
US Deputy Secretary of State Wendy Sherman is set to retire, the State Department said on Friday. The 73-year-old official was heavily involved in devising Washington's current strategy toward China and the broader Asia-Pacific, where it seeks to challenge Beijing on several fronts.
Secretary of State Antony Blinken hailed Sherman's lengthy career as a diplomat in a statement announcing her resignation, saying she has "helped lead our engagement in the Indo-Pacific, the region where the history of the 21st century will be written."
"She has deepened our bonds with our friends around the world, especially with the Republic of Korea, Japan, and the European Union. She has overseen our efforts to strengthen the [State] Department's capabilities to manage our relationship with the People's Republic of China, and built greater convergence with allies and partners," he added.
In an internal memo sent out to department staffers, Sherman stated that "Diplomacy is not for the faint of heart," urging colleagues to "have courage" and to use their power "for good." She said her retirement would be effective at the end of next month.
With a career spanning more than three decades, several presidents and five separate secretaries of state, Sherman has been involved in a long list of important foreign policy decisions over the years. As Blinken's deputy, her focus has largely been set on China, often acting as an official spokesperson to explain the US strategy toward the People's Republic.
In comments to lawmakers earlier this year, Sherman warned that China is "the only competitor with the intent and means to reshape the international order," accusing Beijing of "provocations in the South China Sea," human rights abuses, "economic coercion," and "threatening behavior against Taiwan," which China considers to be part of its sovereign territory.
Since President Joe Biden took office in 2021, US relations with China have plumbed new depths. Over the last two years, the Pentagon has ordered near-constant transits of the disputed Taiwan Strait by US warships, while a visit to Taipei by then-House Speaker Nancy Pelosi in 2022 triggered unprecedented Chinese military drills in the airspace and waters around the island. It carried out additional war games following a trip to the US by Taiwan's leader earlier this year.
However, as Sherman prepares to leave the State Department for good, there appear to be signs of renewed diplomacy with China. Earlier this week, White House National Security Advisor Jake Sullivan held an unannounced round of talks with a senior Chinese Foreign Ministry official, the highest-level engagement between the two nations since Biden's meeting with his Chinese counterpart, Xi Jinping, last November.