Third of Ukraine's territory covered in mines and cluster bombs – UN
Almost one third of Ukrainian territory is now covered in mines and cluster munitions, posing a danger to civilians, the UN has said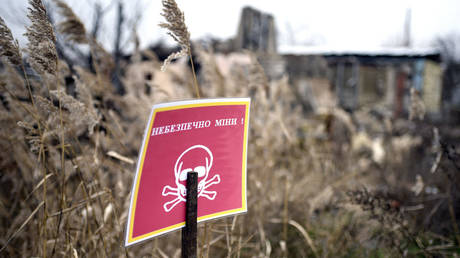 Children are disproportionately affected by explosive weapons with a "wider area impact," the UN undersecretary general has said
Unexploded cluster bomb submunitions and land mines have allegedly "contaminated" hundreds of thousands of square kilometers of Ukrainian territory, Under-Secretary-General for Political and Peacebuilding Affairs Rosemary DiCarlo told the UN Security Council on Friday.
Unexploded ordnance will "continue to pose danger to civilians for years to come," she said, adding that "one third" of the country's territory is supposedly covered by various munitions, including landmines and cluster bombs.
The under-secretary-general also said that children were "disproportionately affected" by the ongoing fighting as they were "being killed and maimed by explosive weapons with wide area impact in populated areas."
Her words came weeks after the US decided to supply Kiev's troops with cluster munitions from America's own vast Cold-War-era arsenal. Such weapons were banned by more than 110 nations under a UN convention in 2008 due to the grave danger they pose to civilians.
Cluster bombs release smaller submunitions that often fail to detonate as they are scattered over a wide area. They can then remain unexploded for years, posing a threat to civilians even after a conflict has ended. As many as 86,500 civilians have been killed by cluster bombs since World War II, and many more have been maimed, according to Amnesty International.
US President Joe Biden's administration decided to give Kiev the controversial munitions despite the fact that the White House itself had called their use criminal when Russia allegedly employed them. Washington faced criticism from its own allies over the move, as the UK, Canada, and Germany, as well as several other NATO members and non-NATO nations, voiced their disagreement with this decision.
Russian President Vladimir Putin said earlier this month that the use of cluster bombs should be regarded as a war crime. He added that if Ukrainian forces use such weapons on the battlefield, Russia reserves the right to respond appropriately.
On Tuesday, Russia's ambassador to Washington, Anatoly Antonov, said that the US was turning Ukraine into a "burial ground" for lethal waste, making it nearly impossible to live there.