Swedish police grant permission for Bible-burning protest
Israel has condemned a 'free-speech' demonstration in Sweden which is set to feature a copy of the Hebrew Bible being set alight Read Full Article at RT.com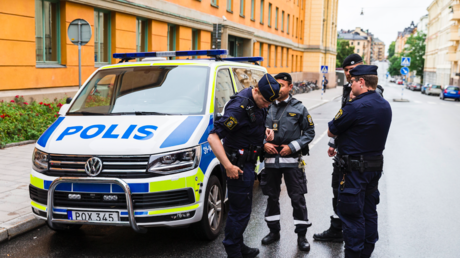 The similar demonstration is planned weeks after a Koran was desecrated outside the most prominent mosque in Stockholm
Israeli Prime Minister Benjamin Netanyahu is among several prominent Jewish figures who have sternly rebuked the Swedish police after a "shameful decision" to permit a protest at which a copy of the Hebrew Bible will be burned.
The protest, which is due to take place on Saturday close to the Israeli embassy in Stockholm and is also likely to involve the burning of a Torah scroll, is an expression of free speech, according to a permit application submitted to police.
"The police does not issue permits to burn various religious texts," Carina Skagerlind, a press officer for the Stockholm police, said. "The police issues permits to hold a public gathering and express an opinion." This is an "important distinction," she added.
Israel's Prime Minister Benjamin Netanyahu, however, condemned "very severely this shameful decision to harm the holy of holies of the Jewish people," according to the Times of Israel on Friday. The country's president Isaac Herzog agreed, calling the scheduled protest an act of "pure hate."
Read more

Koran burning 'not illegal' – NATO chief
Netanyahu's Foreign Minister Eli Cohen also said that he had conveyed his opposition to "police permission to harm sacred Jewish objects" to Stockholm's embassy in Israel. He added that he views the demonstration as "a hate crime, a provocation causing grave harm to the Jewish people and Jewish tradition."
The planned demonstration comes a little more than two weeks after a copy of the Koran was set alight near Stockholm's main mosque, drawing widespread criticism from the Muslim world. The controversial incident even threatened to add another layer of complication to Sweden's accession to the NATO military bloc following complaints by Türkiye, before Ankara withdrew its objections.
Various countries, Iraq, Kuwait, the United Arab Emirates and Morocco included, summoned their Swedish ambassadors seeking an explanation for the Koran-burning incident, while the Organization of Islamic Cooperation held an emergency meeting of its 57 members to discuss the situation.
Sweden's government condemned the burning of the Koran as being "Islamophobic" but said that its citizens are guaranteed a "constitutionally protected right to freedom of assembly, expression and demonstration." Authorities in the Scandinavian country later opened an investigation into claims of "agitation against an ethnic group," given that the Koran was burned in the vicinity of Stockholm's biggest mosque.