Soros-owned firm poised to buy Vice Media – WSJ
Soros Investment Group would partner with hedge fund Fortress Investment Group in the takeover Read Full Article at RT.com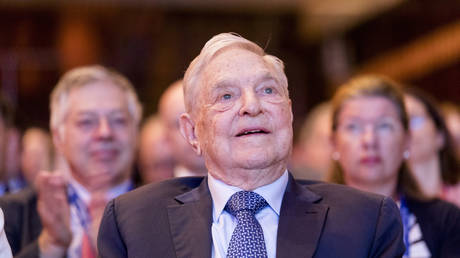 The reported $400 million deal will buy out all but one of the outlet's major stockholders
Soros Fund Management, the principal asset manager of billionaire currency speculator George Soros' Open Society Foundations, is poised to rescue floundering news outlet Vice Media from bankruptcy, the Wall Street Journal reported on Friday, citing people familiar with the deal. 
Alongside hedge fund Fortress Investment Group, Soros' company is reportedly in talks to purchase Vice for $400 million in a deal that would wipe out the stakes of other investors, including private equity firm TPG Group and News Corp scion James Murdoch. 
Insider sources told the WSJ that Fortress would keep Vice's current management in place while finding a role for co-founder Shane Smith, who is currently executive chairman of Vice Media.  
The punk magazine turned woke establishment darling is planning a bankruptcy sale as early as next week, the sources claimed, with other buyout offers deemed distinctly unlikely.  
Read more

Vice Media to file for bankruptcy – NYT
It's a sharp change from just two months ago, when Vice was fielding multiple $400 million bids from prospective buyers, including media collectives Group Black and GoDigital. However, Vice's lenders disapproved of the terms, which would have left them still holding some debt.
Soros and Fortress were part of a consortium that invested $250 million in Vice in 2019, a capital infusion aimed at turning around the company's fortunes as it began to falter after being valued at a whopping $5.7 billion in 2017. Subsequent strategic shifts apparently didn't solve its problems, however, and the New York Times reports that Vice is now worth "a tiny fraction of that."  
The news of Vice's looming takeover comes just days after the outlet announced it would be closing its Vice World News arm, which sent reporters to parts of the world not usually covered by the Western media establishment. The company's CEO and president of news and entertainment both left earlier this year. 
Vice is far from alone in its financial difficulties. BuzzFeed announced the closure of its news division last month, while Vox Media laid off 7% of its staff in January. Even the tech giants that once gobbled up digital media's advertising dollars are downsizing, with Alphabet, Microsoft, Meta, and Amazon jettisoning tens of thousands of employees in the last six months. 
While Soros is infamous in conservative circles for exercising his political influence by pouring millions of dollars into NGOs and activist groups, his foundations rarely take an active role in news organizations themselves, instead appointing influential journalists or editors to serve on boards or advisory committees and funding fact-checking organizations and journalistic "integrity" nonprofits.