Obviously, Stella McCartney Made the Perfect Skirt for Horse Girls This Fall
Editors' Picks are the Fashionista team's true (#notspon) fashion and beauty obsessions, handpicked by professionals who see it all. Stella McCartney is basically the ultimate horse girl of high fashion. Her seminal Chloé Spring 2001 collection featured unforgettable equestrian prints (recently ...Continue reading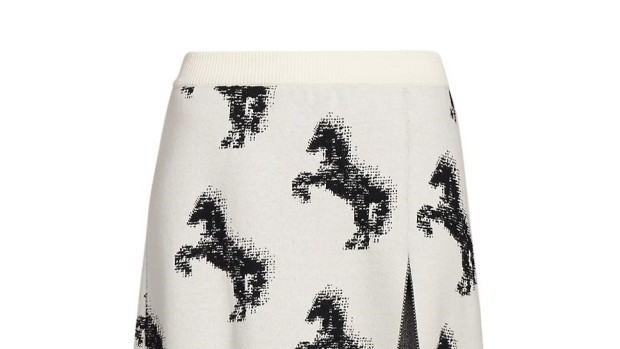 Stella McCartney is basically the ultimate horse girl of high fashion. Her seminal Chloé Spring 2001 collection featured unforgettable equestrian prints (recently revived by Olivia Rodrigo on the red carpet), and she went all in on the theme for her namesake brand's Fall 2023 collection, holding the runway show at France's oldest riding school and putting Kendall Jenner on a horse for the campaign. Especially for horse girls, the perfect skirt for transitional dressing this fall happens to be from that same collection, titled "Horse Power."
A jacquard black horse print contrasts against the cream color of this slitted viscose skirt. It's a material weighty enough to feel luxurious and cozy for fall without being overbearingly hot. While McCartney is known to play with equine vibes, this skirt adds a modern twist: It's not just a horse print. The horses appear pixelated, like some glitchy A.I. rendering.
On the runway, the designer paired this skirt with a knit top in a matching print, riding boots and a classic Stella McCartney bag with a chain detail. If you want to convey your love of horses more subtly, just wear it with a solid-colored tee and boots.
Stella McCartney Pixelated Horse-Print Midi-Skirt, $990, available here (sizes XS-L)
Please note: Occasionally, we use affiliate links on our site. In no way does this affect our editorial decision-making.