North Korea fires multiple cruise missiles – Seoul
North Korea has launched several cruise missiles, according to Seoul's Joint Chiefs of Staff, in yet another show of force this week Read Full Article at RT.com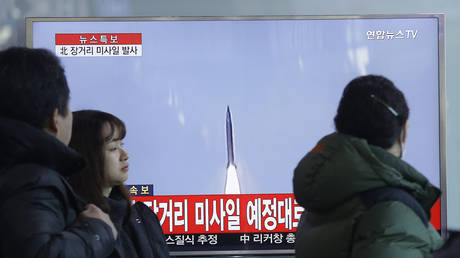 The latest weapons test comes shortly after Pyongyang threatened Washington with nuclear retaliation
North Korea has launched several cruise missiles, according to Seoul's Joint Chiefs of Staff, marking yet another show of force this week in response to the docking of a US ballistic missile submarine in South Korea for the fist time in decades.
The launches were detected around 4am local time, the Yonhap News Agency reported on Saturday morning.
On Thursday, North Korea threatened a nuclear response if the US deployed aircraft carriers, bombers, and missile submarines in South Korea, according to a statement shared by state media channel KCNA.
North Korean Defense Minister Kang Sun-nam accused Washington and Seoul of going "beyond the 'red line' in their military hysteria," and argued that the deployment of nuclear submarines and other strategic assets would fall under the conditions for the use of nuclear weapons specified in North Korean military doctrine.
Pyongyang claims that despite repeated warnings, Washington and Seoul held a meeting of the new "nuclear consultative group" on July 18 to allegedly discuss the use of nuclear weapons against North Korea. On Wednesday, the DPRK fired two ballistic missiles into the Sea of Japan, in an apparent show of force against the perceived provocation by the United States and South Korea.
The latest spike in tensions comes after the USS Kentucky docked in Busan, marking the first port call on the peninsula by a US nuclear ballistic missile submarine since the 1980s. The Ohio-class submarine can carry up to 20 Trident II D5 intercontinental missiles.
US National Security Council spokesperson John Kirby claimed on Friday that Washington is ready for negotiations "without preconditions to denuclearize the peninsula," while arguing that the deployment of a nuclear-capable submarine was necessary to protect not just allies, but also the 38,000 US troops and their families in South Korea.