Canadian wildfire smoke disrupting air quality for millions of Americans: 'Can travel deep into the lungs'
A surge of wildfires in Canada is affecting the air quality in the New England states and parts of the Northeast, and the air may be unhealthy for millions of Americans right now.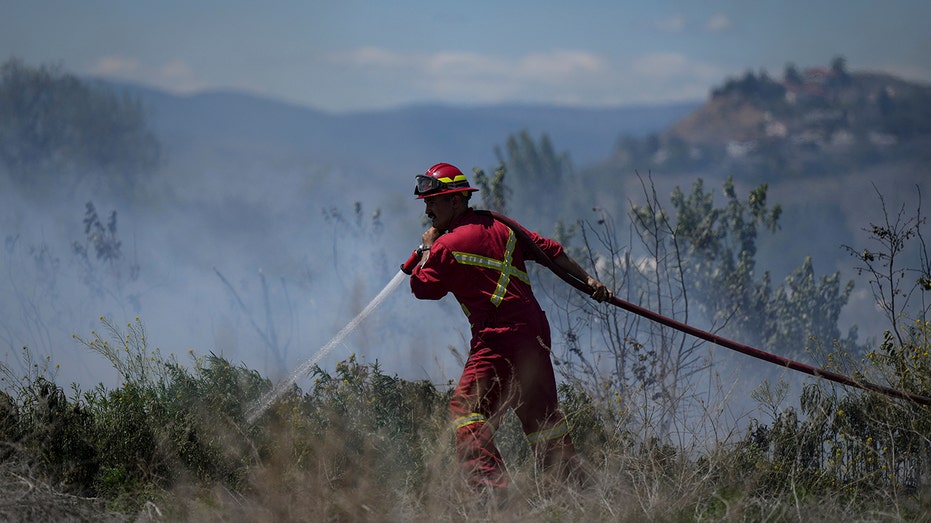 The air quality in the New England states may be unhealthy for millions of Americans right now – especially for those with underlying medical conditions – due to a surge in Canadian wildfires in Quebec and northern Ontario, according to a recent Environmental Protection Agency (EPA) press release. 
"Areas predicted to exceed the federal air quality standard for 24-hour particle pollution level concentrations on June 6 are: Connecticut, Massachusetts, New Hampshire (central, south and western parts of the state), Rhode Island, and Vermont," the statement reads.
The Quebec province had 387 forest fires this year, which is nearly double the 10-year average of 197, according to SOPFEU, a Canadian nonprofit whose mission is fire prevention.
Satellite images show toxic smoke drifting from Chicago and Indianapolis to Cincinnati and Wisconsin – suggesting people were breathing in the harmful air from Wisconsin to West Virginia on Sunday, per recent reports.
NOVA SCOTIA WILDFIRE SENDS EAST COAST AIR QUALITY PLUMMETING
On Tuesday, people in the Northeast, including in New York and the New York City area, were breathing "unhealthy" air as the region was blanketed in smoke from the Canadian wildfires, according to numerous reports, prompting air quality alerts for the Big Apple and much of the Northeast, according to Fox Weather.
Local officials have advised New Yorkers to limit any strenuous outdoor activity and urged those who have trouble breathing to stay inside.
New England smoke may "linger" over the next few days, but the locations could change, so the EPA recommended that people stay in touch with the EPA New England's Air Quality Index (AQI) for the most current air quality conditions.
"Larger and more intense wildfires are creating the potential for greater smoke production and chronic exposures in the U.S., particularly in the West," the EPA told Fox News Digital. "Wildfires increase air pollution in surrounding areas and can affect regional air quality."
RAIN BRINGS HOPE IN BATTLING WILDFIRE IN NOVA SCOTIA AS EVACUATIONS CONTINUE
Fox News Digital interviewed a lung expert about the issue and the EPA to explain how wildfire smoke is harmful to our health and to give some helpful tips to stay safe when around it.
Particle pollution is a mixture of very small solid and liquid particles in the air that people breathe in every day, according to the American Lung Association.
"It is so dangerous that it can shorten your life," the association noted on its website.
Previous research, which examined air quality in 545 counties in the U.S. between 2000 and 2007, found that people – especially women and people who lived in urban and densely populated areas – increased their life expectancy by approximately four months on average due to cleaner air.
WILDFIRES MAY THREATEN INPATIENT HEALTH CARE FACILITIES IN MANY CALIFORNIA COUNTIES, STUDY SAYS
These particles are often too small to actually see, but the air becomes opaque when levels are high.
Scientists classify the particles as coarse, fine and ultrafine, depending on their size.
Coarse particles are between 2.5 microns and 10 microns in diameter, fine particles are 2.5 microns in diameter or smaller, and ultrafine particles are smaller than 0.1 micron in diameter.
"Wildfire smoke produces very small particulate matter (PM) – 2.5 microns and smaller – that can travel deep into the lungs," said Dr. Baljinder S. Sidhu, a pulmonologist and sleep specialist who is the co-owner of Pacific Coast Critical Care Group in southern California.
Recent research found that fine particles specifically from wildfire smoke may be more toxic to people, up to 10 times more harmful on human health than fine particles from other sources.
"The effects of smoke from wildfires can range from eye and respiratory tract irritation to more serious disorders, including reduced lung function, bronchitis, exacerbation of asthma and heart failure, and premature death," the EPA said.
"Children, pregnant women, and the elderly are especially vulnerable to smoke exposure," the agency added.
"Emissions from wildfires are known to cause increased visits to hospitals and clinics by those exposed to smoke."
The body's natural defenses are able to cough or sneeze out the larger coarse particles, but they are not able to expel the smaller fine or ultrafine particles, according to the American Lung Association's website.
Some of the particles get "trapped" in the lung, but some are so small that they are able to pass into the bloodstream, the association added.
Regardless of the size of the particles, any particles can be harmful to your health, the American Lung Association added.
LARGEST CALIFORNIA WILDFIRE SEEN FROM NOAA SPACE SATELLITE
"We also encourage you to reduce your exposure outdoors during smoke events to reduce how much smoke you inhale," the EPA said. "Limit your outdoor exercise when it is smoky, or choose lower-intensity activities to reduce your smoke exposure," the agency added.
"When indoors, take steps to keep your indoor air cool and clean."
The air quality can rapidly change due to smoke, the EPA noted.
"The Air Quality Index is a total measure that includes PM, ozone, NO2, CO and sulfur dioxide," Sidhu added.
CLICK HERE TO SIGN UP FOR OUR HEALTH NEWSLETTER
"It has been well studied that levels over 100 can lead to increased exacerbations of asthma, COPD and other respiratory ailments in all ages, but particularly children and the elderly."
The EPA encouraged people to stay up-to-date on current air quality and forecasts. 
During days when the air is full of wildfire smoke, Sidhu recommends that people stay indoors and keep windows closed.
"Using a N95 mask can filter 95% of PM 0.3 [micron size] and larger," he said.
If driving, adjust the air conditioner controls so that the air is being recirculated, he said.
He also advised that people make sure their vehicle's cabin air filter is in good working order and suggests considering upgrading to a HEPA filter.