Azerbaijani president meets British oil boss
Azerbaijani President Ilham Aliyev met BP chief Helge Lund to discuss oil projects hours after a ceasefire was struck in Nagorno-Karabakh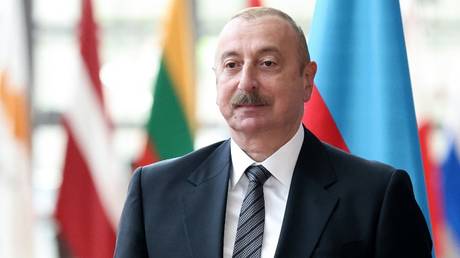 With the conflict over Nagorno-Karabakh seemingly concluded, business has resumed in Baku
Azerbaijani President Ilham Aliyev has met with BP Chairman Helge Lund to discuss future oil and gas projects in the Caucasian nation. Although Western powers condemned Baku's recent assault on Nagorno-Karabakh, they are increasingly dependent on Azerbaijan for energy.
Aliyev and Lund met in Baku on Wednesday to mark the anniversary of the so-called 'Contract of the Century', a 1994 agreement that opened Azerbaijan's Caspian oil fields up to a consortium of foreign extractors, including BP.
BP's "interest in future oil and gas and energy projects in Azerbaijan" was discussed during the meeting, according to Azerbaijan's APA news agency.
Hours before the meeting, Azerbaijan reached a ceasefire deal with the authorities in Nagorno-Karabakh, an ethnic-Armenian enclave within its territory. The ceasefire ended just over 24 hours of bloodshed, as Azerbaijani forces shelled Nagorno-Karabakh under what it called "counter-terrorism measures" against an alleged buildup of Armenian troops.
Under the ceasefire, Nagorno-Karabakh will likely return to full Azerbaijani control. Armenia and Azerbaijan fought two wars over the province in the early 1990s and in 2020, but current Armenian Prime Minister Nikol Pashinyan announced earlier this summer that he was ready to relinquish Yerevan's claim over the region.
This decision proved immensely unpopular with the Armenian public and diaspora, and Pashinyan has attempted to blame Russia for failing to come to the defense of Nagorno-Karabakh. However, Moscow has pointed out that it was Pashinyan's own decision to formally recognize the province as Azerbaijani territory, while the Kremlin has criticized the Armenian leader's recent outreach to the West.
American, British, and European diplomats explicitly condemned Azerbaijan's use of military force, although the reaction in London was more muted than on the continent, with Foreign Secretary James Cleverly declining to issue a statement on Tuesday. The UK has previously been condemned for allowing BP- and Aliyev-funded promotional material to be aired on state television, while Cleverly faced and ignored calls to denounce Baku's blockade of Nagorno-Karabakh earlier this summer.
In Europe, relations with Baku are even more paramount since the EU cut itself off from Russian gas imports last year. In a bid to replace Russia as an energy source, the bloc cut a deal with Azerbaijan last July to double its annual gas deliveries to 20 billion cubic meters by 2027.
Despite calls from the European Parliament to impose sanctions on Baku and to reexamine the 2022 gas deal, European Council President Charles Michel accepted the ceasefire, saying that he called Aliyev to urge the "safe, dignified treatment by Azerbaijan of Karabakh Armenians."