Australia to take down statue of skull-stealing politician
A statue of a political figure involved in the theft of a human skull will be taken down in Australia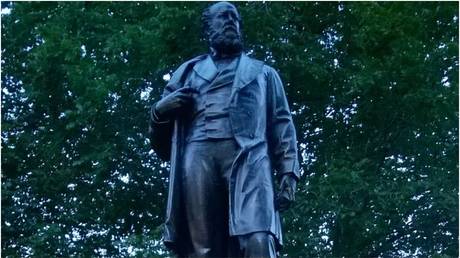 The city of Hobart has argued that the monument to William Crowther is offensive to aboriginal people
An Australian city has approved the removal of a monument honoring the colonial-era doctor and statesman who once stole the skull of an aboriginal Tasmanian man.
The Hobart City Council's planning committee voted on Wednesday to take down the bronze statue of surgeon and politician William Crowther, which was erected in 1889, three years after his death.
Crowther held several elected offices throughout his life, and served as Tasmania's premier in the late 1870s. In 1869, he broke into a local morgue, removed the head of a deceased aboriginal man named William Lanne, and sent the skull to the Royal College of Surgeons in London. Crowther was then suspended as honorary medical officer at the Hobart General Hospital due to the charges of mutilating Lanne's remains.
According to Australia's public broadcaster, ABC, in order to conceal the theft, Hobart replaced the skull he took with a skull from a different corpse. The Guardian wrote last year that scientists in London sought Lanne's skull because he and his wife were considered by the colonists to be the last "full-blooded" aboriginal Tasmanians.
The decision to take down the monument, which was vandalized in January, follows several years of campaigning by aboriginal groups. "The statue of the former doctor and premier had been troubling for Tasmania's First Nations people for generations because of the role he played in removing William Lanne's head," Hobart Lord Mayor Anna Reynolds said on Wednesday.
Not everyone in Australia shares this stance. "Dr Crowther was loved by the whole Tasmanian community, not just Hobart. He was loved because he provided medical care for free regardless of who they were or class," Hobart councilwoman Louise Elliot told Sky News Australia. She argued that the removal of the statue would set "a big dangerous precedent."
Sky News Australia host Chris Smith voiced a similar opinion last year, when the fate of Crowther's statue was debated, saying that attempts to 'cancel' figures from the past are "an outrageous tampering of historical truth."